Baby Announcement's And Prints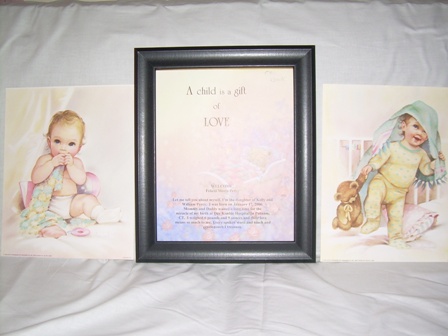 These prints are on 8 by 10's for birth annoucements gifts
and other events. That's your choice. For You create a meaningful expression
on personlized print created uniquely by you. A lasting treasured gift for friends and family you love dear.

The middle picture is for either boy or girl. It says A child is a gift of LOVE
Under the WELCOME sign is their name. A sample idea is as follows.
Let me tell you about myself. I'm the daughter/son of Parent's name.
Mommy and Daddy waited a long for the miracle of my birth at
hospital & Tn,St. I weighed __pounds and __ounces and their love means so much to me.
Every spoken word and gentle touch I treasure in my heart.